Announcements
You can communicate effectively…!
David Porter Communications
with the Human Touch
The Box
where experience counts
Human Communication is the Name of my Game
A service to business and individuals in need of confidence building, trouble shooting, problem solving, public speaking, report/letter writing, quality written web content, editing, event enabling, voice-overs, third way and lateral thinking.
I work with others rich in life's experiences:
We think outside the box.
But we don't neglect what's already inside the box, too
Whatever your problem, we can help
We can do it for you, or work with you
We can talk to people for or with you
We facilitate
We teach you or your staff the know-how from writing English to speaking it
We organise, arrange, plan, question
We come up with blue sky thinking
We brain storm for or with you.
What's in the Box?
I lead a team of older, wiser, widely experienced people from business, education, public sector, arts and sports worlds running this unique service to help you and keep our brains lively.
Research from the University of Texas (Aug 2011) found that older people are more adept at strategic decisions which take the future into account than younger people. Decision-making ability doesn't decline with age (60-80). On the contrary, the more experience of life and challenges, the better you are at them!

After years of work in many and varied fields, we have learned skills in solving problems, decision making, team building, motivation, performing, writing in all genres, approaching people/situations and brick-wall tackling.
Sometimes the solution to a problem lies in your mind already, it just needs bringing out.
An idea needs a nudge, people need to be brought together, writing needs to be done, presentations made, documents edited, events set in motion, publicity planned in local media and on line, people briefed and records correctly kept.
Your staff might need specialised training that is outside your field, including spelling, punctuation and grammar or spoken presentation..
You might need a starting point for a vision, a project or a dream.
Lift the Box lid and see the light!
David Porter, former Member of Parliament, English and drama teacher and head of Performing Arts in secondary education, political organiser, experience in public speaking/performing, writing on line and off, editing, trouble shooting and examining/assessing.
email: david@davidporter.co.uk
Check out my self-published novel and short stories.
Headline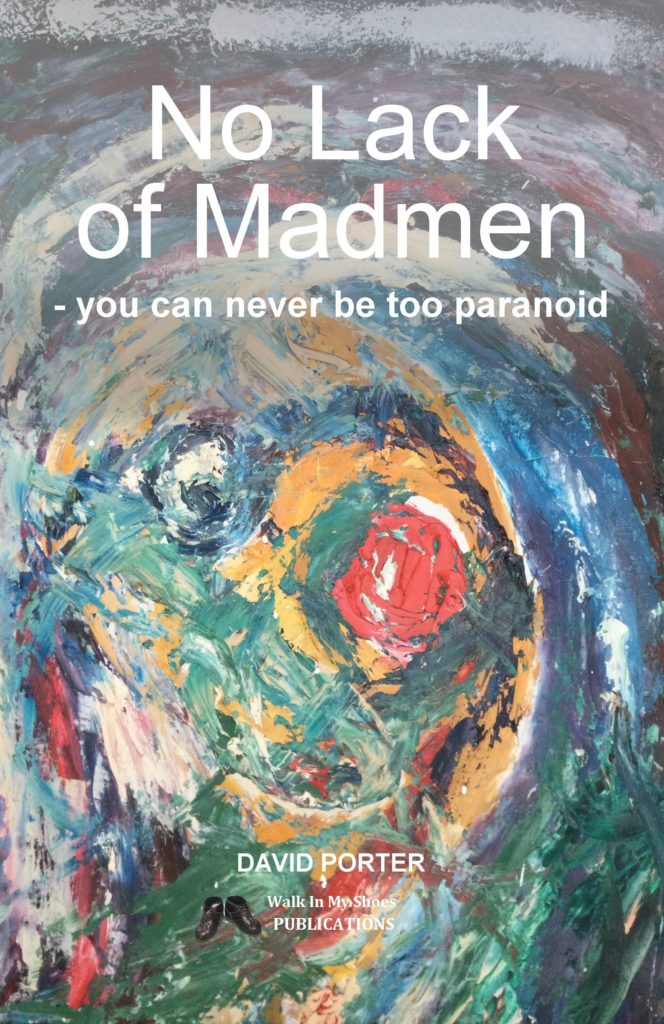 No Lack of Madmen is my third self-published novel.
Drawing on my experiences in Parliament (1987-97) and my own ageing processes, I've set it in an East Anglian care home designed for one-time MPs, Lords and senior civil servants. Furthermore, the place boasts its own 'Commons Chamber' for residents to relive their glory days.
The Protagonist
Prone to increasing falls and mobility issues, my former MP James Ellington reluctantly moves in to calm the worries of his family. Straightaway, he's immersed in a nightmare world of deluded, confused, decrepit shadows of their former selves.
He's attacked from a mobility scooter and a meat cleaver by a loopy fellow resident with an historic grudge. Gradually, he uncovers dastardly plans to hasten residents' departures once they have left bequests to the home.
The Antagonist
Meanwhile, the man behind his troubles is a former, close Parliamentary 'Honourable Friend'. Ralph Dines spends his days extorting money and herding madmen residents behaving not unlike cats.
Eventually, helped by his young family and after a crazy fight, Ellington exposes the plans. It does him no good as his own grip on reality crumbles.
Why this title?
My No Lack of Madmen title is from a Bible quote: 'Am I so short of madmen that you have to bring this fellow here to carry on like this?' It was when King David feigned lunacy. Yes, it's a comedy about a deadly serious racket.
It's published through IngramSpark. They are connected to the ordering systems of 40,000 independent and chain bookstores, libraries, and online retailers worldwide. This includes Apple, Kobo, Amazon, Barnes & Noble, Bertrams, Waterstones, Booktopia. I have published print-on-demand and ebook versions. This sits alongside my Old Men's Dreams and Detestable Things, also self-published and set in East Anglia! I've put three collections of my short stories, Wild Beasts and Plague, Scoffers Will Come and The Scapegoat Keeper out there.
Featured
You may have seen the TV drama (New Tricks) about retired senior police officers helping current squads unearth cold cases, old evidence from the perspective of their long years of experience? You … Read more »
You can communicate effectively…! David Porter Communications with the Human Touch The Box where experience counts Human Communication is the Name of my Game A service to business and individuals in need of confidence building, trouble shooting, problem … Read more »
Popular
Latest