David Porter » Writing » The Scapegoat Keeper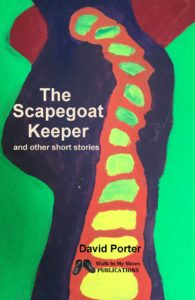 The Scapegoat Keeper and other short stories is my third self-published anthology in both print and Kindle versions  It's an album of short stories, some from old and reborn writing and novel ideas. It also publishes more recent work, particularly tales inspired by the Covid lockdowns of 2020 and 2021.
Like the stories in my earlier collections, Wild Beasts and Plague (2018) and Scoffers Will Come (2019), these yarns are often dark with unexpected outcomes. They emanate from what people do to each other, how they perceive others and value themselves. Or not.
The title tale, The Scapegoat Keeper, is a dystopian, futuristic story in the remains of a city. Here shadowy powers maintain order by periodically sending out human scapegoats to the desert around, bearing people's sins and sacrificing themselves – all with a nasty outcome. There are 19 further stories, including a reworked 1970s' novel, A Stiff-Necked People about an over-powerful regime across the North Sea.
Some ideas came to me during lockdown and reflect the drastic changes in our lives, the loss of family closeness and social communication and very bad dreams many people suffered. To wish to commit perfect murder was as good a brain exercise as jigsaws and crosswords.
Also available are my novels Old Men's Dreams (2015) and  Detestable Things (2020)
The imprint for my self-published works is Walk in My Shoes Publications. Charcot Marie Tooth disease has given me severely misshapen feet to walk on all my life. That I have led a rich and busy life despite them shows that afflictions like CMT can be lived with to a large extent. But, of course, each victim feels it differently.
Its dark shadow hangs over much of my writing, mixing with experiences in children's theatre, teaching drama and politics at organisational and elected levels. Nothing in life is ever wasted to a writer!
Filed under: Writing · Tags: Covid, dark side, short stories